BVM Jets F9F Cougar Go Fly Gold
Contact us for lates price
BVM is pleased to announce the release of our 1:5.8 scale F9F Cougar.  The US debut at Jets Over Kentucky 2014 was the first chance for BVM customers to witness the Cougar in action. Since July, the BVM team has been extensively flight testing our 2nd and 3rd prototypes. They reflect all of the efforts and experience BVM is known for.  This flight testing has been conducted using three different engine manufacture's 100N engines. 

  The Cougar is equipped with pneumatic gear doors and landing gear, and features BVM "O" Ring Brakes.  The air system comes to you 100% installed and ready to use. The difficult work has been expertly completed for you; all that is required to complete your Cougar is a receiver, pilot, UAT, engine, batteries, and 8-10 hours of your time.
 The servo's are the same high quality brushless, digital, high-voltage, metal geared servos that have been in service with our popular F-16.
  The Cougar features many scale highlights such as sequencing gear doors, servo driven speed boards, and body flaps.  To finish off the visual appeal, a high intensity light system and a smoke system also come installed.
  The traditional BVM instruction manual guarantees your success with this 1950's and 60's Navy/Marine swept wing Fighter/Attack Jet.
The Cougar and Grass fields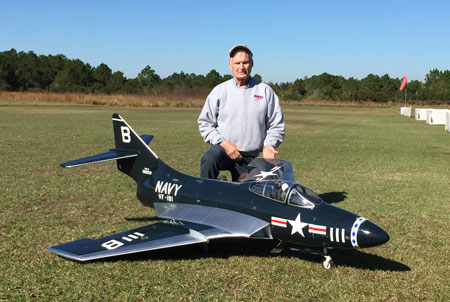 It is important to BVM that all of our jets are grass field capable because most R/C Club fields are in fact, grass strips. The Sanford, Florida club field is "jet friendly", so the grass is maintained accordingly.  This was no easy task this year because of an unusually wet Fall season.
  This mid December weekend and a "Toy's for Tot's" event sponsored by the Sanford Aeromodelers provided an excellent opportunity to fly the JetCat P-100RX powered BVM PNP F9 Cougar. It was airborne with a 300ft take-off run on each of the 3 flights logged.
  All Cougar landings are a breeze, especially when equipped with the latest gyro system (Cortex 3-Axis), and, as designed, the landing gear can handle the extra stress of grass field operations.  It is reasonable however, to expect that grass operations require more cleaning and occasional maintenance for the entire undercarriage system including the doors and linkages.
  Some Cougar customers have bragged about how easy their BVM F-9F is to fly at their club field. Rodney Wilkinson from Wasilla, Alaska is one such happy jet pilot. He called just to tell us about how his buddies have some so called "Jet Trainers" and after watching Rodney fly, they were impressed with the BVM Cougar fulfilling that role.
  As for its aerobatic capabilities, the BVM Demo Pilots demonstrate them at the jet events. BV actually performed outside loops and inverted reverse Cuban Eights at Top Gun 2015 (Top Gun). The judges were impressed for sure.
  So, is it really possible to have scale looks, aerobatic performance, and easy trainer-like flying capabilities? Those who own and fly the Cougar think so, and prove it at the flying field every weekend.
Length: 84"
Wing Span: 72"
Weight: 26lbs-27lbs Dry
Thrust: 100N Class (20-22lbs) 
Included and Installed Accessories:
Servos, Extensions, Gear Valve, Door Valve, Brake Valve, Sequencer w/ Low pressure failsafe, Navigation and Landing Lights, Light Controller, Fuel tanks, Smoke tanks, Smoke pump,  BVM Air fill Valve, BVM Air Gauge, Air tanks, Scale Landing Gear, Wheels and Brakes, detailed Cockpit, and doublewall Stainless Steel Tailpipe.