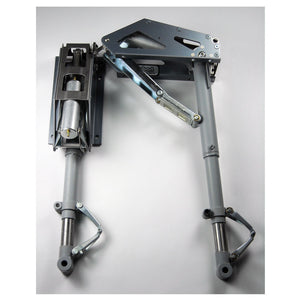 #150ZF6F Ziroli F6F Hellcat Rotating Retracts
Ziroli F6F Hellcat 100 degree Heavy Duty Rotating Retract. (pair)
These were designed specfically for the Ziroli F6F Hellcat or other aircraft up'_to 50lbs. These retracts feature heavy duty side frames with steel bearings, and 5/8_"? dia. struts.
These pneumatically operated retracts are constructed from aircraft steel and aluminum components. They feature positive up-locks, functional steel oleo struts, triple sealed 5/8_"? dia. air cylinder and 1/4 inch axles. The struts rotate 96'? when retracted making these retracts ideal for use in 1/5 scale models of F4U Corsair, P-40 Warhawk, F6F Hellcat and AD-1 Skyraider.
(Robart Air Control Kit Required'_'_ Sold Separately)